Pressure Washing Service
Pressure washing is essential for our many pest control services. Whether it be swallows' nests, bird droppings, or simply a dirty ground, we have the equipment and know-how to properly, quickly, and effectively do the job.
Some of the routine pressure washing services we offer vary from residential, commercial, and industrial.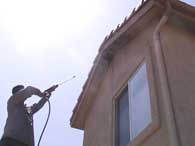 Residential, Industrial, Commercial
Before we start
Abolish will assess the job by taking into account the size (ex. square footage), estimated time to complete the job, and amount of biohazardous material to dispose of.
Equipment and chemicals are provided by Abolish. Depending on the amount of biohazardous material I.E. Animal Feces, we must first chemically spray infested areas inorder to prevent spread of diseases or parasites.

Pressure washing for:
-Swallow nest removal
-Bird feces cleanup
-Dirt, grim, and feces
Reducing Histoplasmosis Contamination

The primary way to try to prevent histoplasmosis is to avoid places that may contain dirt contaminated with bird or bat droppings, such as in an attic or pigeon coop. Also, leave piles of bat or bird droppings alone unless you take precautions, such as wetting down the material with proper disinfectant, to prevent the contaminated dirt from becoming airborne. You should also wear PPE (Personal protective equipment) if working in a potential contaminated environment, which is known to contain bat or bird feces. To protect the employees of your work place, it is required that employees keep clear of the work site during feces removal.
---
home | specials | commercial | residential | service area
preparation | pests | feedback | contact us
Absolutely no rights of distribution by sale or other transfer of ownership or by rental, lease or lending, preparation of derivative works, or reproduction, in whole or in part, is not granted. No text, graphics or photos may be downloaded and used on another Internet site, without express permission of AbolishPestControl. For information on obtaining photo usage and rights, please see our contact page. AbolishPestControl reserves the rights to actively protect against infringement.
Copyright ©1985 - 2019 AbolishPestControl.com All Rights Reserved Copyright info